It's About Time to Replace Your Entry Door
Happy holidays from all your friends at Renaissance Windows & Doors. Last week, we began inviting friends and relatives into our home for the holidays. We were pleased and surprised by how many commented on our beautiful entryway. Though many take their entry door for granted, it is still the first thing guests to your home will notice. Replacing your front door now will not only make your home more beautiful, it could also improve its energy efficiency. When you replace your old wood or metal door with a new fiberglass door from JELD-WEN, you will add warmth to your home, inside and out.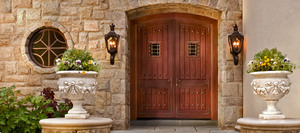 As the days grow cooler, you may find your heating system is running more than necessary. Your front door may be the culprit. Wood and metal doors are poorer insulators against the elements than fiberglass. While metal is a thermal conductor, wood can warp, rot, and crack. Any deformity in your door can lead to drafts being let in and heat escaping from your home. Though weatherstripping can help, it is no match for the kind of bowing that can occur in wood doors. In addition, if your door is not hung properly, it is likely not insulating as it should. An expertly installed fiberglass door has five times the insulating power of wood, and can qualify you for the $1500 Federal Tax Credit.

Other than being a phenomenal insulator, fiberglass has other benefits you may not have considered. Fiberglass can mimic the look and feel of wood. Doors made from this sturdy material can be stained or painted just as a wood door can. However, unlike wood, they are highly resistant to the elements. You will never have to worry about them sticking after a storm or in high humidity. They are also more durable than wood, and will withstand battering from high winds or a persistent prowler. They require virtually no maintenance over time, and will not flake or crack like wood or metal. Though they are far superior to their wood or metal counterparts, they are highly affordable and usually warrantied.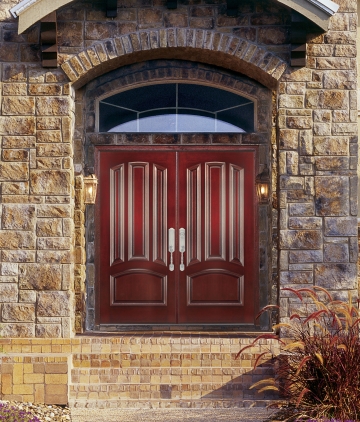 The JELD-WEN fiberglass entry doors you'll find at Renaissanc
e Windows & Doors are some of the highest quality on the market, and come with a Limited Lifetime Warranty. They have ENERGY STAR enhanced options available, making the
m eligible
for the Federal Tax Credit. They mimic the look and feel of solid wood doors, down to the knots and cracks. Unlike other fiberglass doors on the market, they are custom
built. You choose your woodgrain finish and paint color. You can enhance them with architectural details or glass inlays. With the m
ultitude
of options in various price ranges, you will have a door that is unique, stylish and affordable.
Remember, you must have your new door installed before December 31, 2010 for it to qualify for the $1500 Federal Energy Tax Credit.
Your installation specialist can discuss which options are best for your home if you are interested in qualifying for the tax credit. Whichever fiberglass door you choose, your home will be warm and inviting for the holidays. Again, we wish you all the joys of the season, and look forward to seeing you in the new year.